Last season was one to forget for Arsenal Fans. From protests and constant rants from select members of Arsenal Fan TV, to lack lustre performances and the ever-present storm cloud over Wenger's future; Arsenal wish, that bar the now customary FA Cup win, last season would be wiped off the face of the Earth.
However, last season also gives a scope for improvement, because the only way is up, right? While the whole team needs to become more of a well-oiled engine in all aspects of the game, there are certain players who have a point to prove in the upcoming 17/18 season. Players who either never turn up in big games, or games at all. Players who are not worthy of their wage packet. This article assesses who needs to pull their socks up for the Gunners, and how.
Danny Welbeck
Danny Welbeck was one of Wenger's last-minute buys, striking a £16 million deal with Manchester United for the pacey forward back in the late hours of Deadline Day in 2014. When he signed, while everyone was calling out for the likes of Benzema, I was excited to see what this kid could do. He had it all in his locker: Physicality, height,
pace and composure; like a poor man's Aubameyang. Furthermore, to Welbeck's credit he was both young and a premier league veteran, meaning that he knew the lay of the land when it came to how physical the English game was. And while we were promised big things from Wenger when it came to Danny, he simply hasn't lived up to expectations. While one could blame it on his long term injuries, things which seem like a common occurrence at Arsenal (let's hope Lacazette isn't affected by the injury epidemic in the future), it's clear that Danny hasn't lived up to the hype because of the absence of a clinical nature in his finishing. Unfortunately, you cannot paper over the cracks with Danny; while he is a workhorse for the team, something which is admirable, he cannot 'finish his dinner'. Yes, Danny was sick of playing left winger for Manchester United. However, who could blame Van Gaal if he couldn't put chances away? In the Emirates Cup, we saw how Welbeck had no sort of weak foot. On one of the biggest chances of the match against Sevilla, he failed to access his inner Thierry and open up his body to the goal, and instead became Mr Toe Poke. Let's be brutally honest here. If I was Wenger, I wouldn't play him in striker ever again until he got some playtime with the U23s to pick some goals. He needs to find his feet in a team which ands him chances on a silver platter. He needs to find them quickly.
Hector Bellerin
Hector Bellerin, a star in coming out of both La Masia and Arsenal academies respectively, has, like Welbeck, not lived up to the hype. While everyman and his dog can blabber on about the fact that he is a pace merchant, pace isn't everything, especially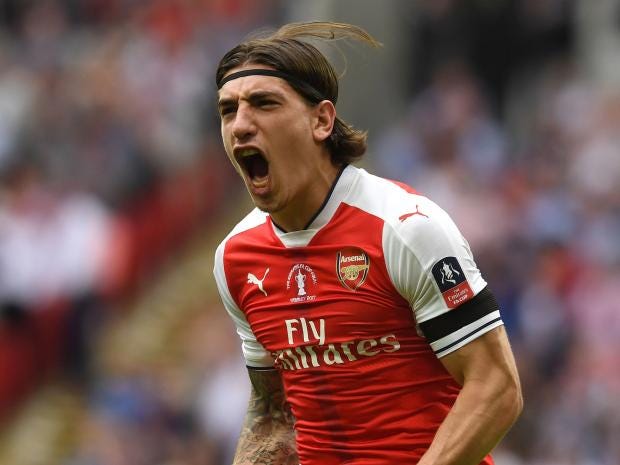 when it comes to a full back. Yes, you can track back when being hit with a counter-attack. However, how are you supposed to stop it when you have mediocre defensive skills? In my opinion, Hector Bellerin has the biggest point to prove in the Arsenal Squad. Not only is he now fighting a losing battle for his first team position against Alex Oxlade-Chamberlain, a man who is on scintillating form right now, Bellerin simply doesn't cut it when you take into account the role he's supposed to play. As we fully well know, Wenger likes to see, in his Wengerball vision, full back linking up with Wingers to create a vicious attacking sequence that will tear defences to shreds. With pace, of course you are going to be at an advantage. Despite this, where full backs like Nacho Monreal excel and Bellerin does not is the footballing brain. Bellerin's vision is far from 20/20: Passes can be sloppy, and do not reach the intended target. Furthermore, there are many times where he can be caught bombing too far forward; and then of course, at other times, he can be sat down on his arse by skilful maestros (cue the memories of Douglas Costa). Nevertheless, the biggest problem Gooners have with Bellerin, is his crossing ability. Bellerin has the crossing ability of a snail. But a snail can't cross, you might say. That's my point. In a team which thrives on crossing, Bellerin is simply surplus to requirements. How is Giroud supposed to score for Arsenal if he is not given the delivery he deserves. By no means am I saying that crossing is on the onus of Hector and Hector only, but it is unequivocally clear that he needs dire improvements in that area of his game. Overall, Bellerin needs to step up, or he will be lost in the Arsenal shuffle, a shame for a right back who was once tipped so highly.
Mesut Ozil
I like to call Mesut Ozil Caspar at times, as in Caspar the friendly ghost. He could've also been the lead role in the movie Now you see me, because he just isn't consistent enough. On his day, Mesut Ozil is arguably the best attacking midfielder in
the World. His vision is nothing short of world class, as is his dribbling ability; being able to weave and slalom in between defenders. However, focus on three words I've mentioned – 'On his day'. Ozil, while we can lavish him with praise for his delicious assists for Sanchez, Giroud and hopefully now Lacazette in the upcoming season, doesn't turn up enough. For a man that is being paid £140k a week, turning up against small teams isn't enough. If I knew Mesut wasn't going to turn up against the likes of Manchester City and Liverpool, I wouldn't have wanted to pay £42 million for him back in 2013 (probably near to £70 million in today's market). As previously mentioned, Arsenal is a creative passing team through and through, which means the attack needs to be orchestrated by an intelligent playmaker. While I would never dispute the idea that Mesut's footballing brain is head and shoulders above the rest of the team, he never shows it off enough. He gets a hold of the ball enough, so make use of it like every game is your first trial for the club. Put your heart and soul into every game; because from the way I look at it (and be it with very critical eyes), Mesut doesn't contribute enough. He is lethargic and lazy off the ball, and is not dynamic enough while on it. Of course, one could attribute this to the calibre of players around him. So, with the arrival of new club record signing Alexandre Lacazette and the impending arrival of Lemar; Mesut Ozil should be laughing his way up the Assists table next season.
Other notable mentions:
Theo Walcott -  this is the last chance saloon for the man who took over as No.14 from the King. He has never done the shirt justice. If he does not perform in his late twenties, I'm afraid he never will.
Aaron Ramsey- Its time for the Welshman to become the Midfielder we always wanted him to be. While he was the best thing since sliced bread in that legendary 13/14 season, he has failed to replicate that from that Gooners drooled over. With a newfound partnering with Xhaka in the midfield, and tremendously big boots to fill, once belonging to the midfield magician Santi Cazorla, Aaron needs to catch lightning in a bottle and become a world star.
So, there are my thoughts, what about yours? Did I leave any out? Leave your comments below, any feedback will always be appreciated.
Thanks for reading,
Carl Higgins (Twitter: @carltonlolz)